Ancistrus sp.: Peppermint BN..L181...aka....L071 and L249...
Very easily confused with L183 Ancistrus dolichopterus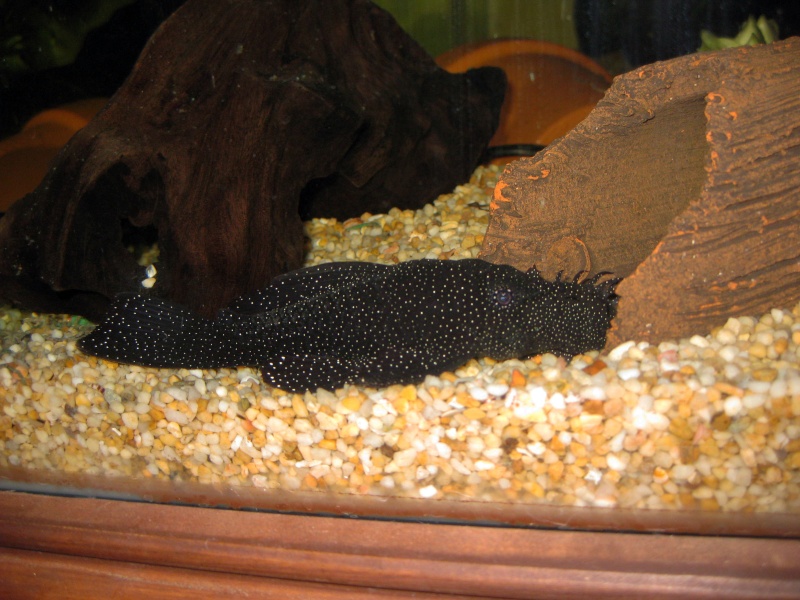 Fish StatisticsMinimum Tank Size:
100L (26 US Gal)( 21.649 528 8 UK Gal)
Diet:
Omnivorous, In the wild, it feeds mainly on algae, The Peppermint Bn should not be forced to live on natural algae growth only in the aquarium - always supplement with algae based prepared foods and fresh vegetables. also needs wood
Origin:
Continent of South America,
Origin country:
Brazil .L071 from the Rio Tapajos, L 181 from the Rio Tefe as well as L249 from the Rio Trombetas, we are talking about the same species. All of these places of origin & some not mentioned, are in the area of the middle to lower Amazon and are of clear or black water types with soft acidic water chemistry.
Temp:
(C): 23 °C (73.4 °F) - 28 °C (78.8 °F)
Max Size:
15/20cms
At 10-12 cm long young males already show a good growth of tentacles and appear therefore to be already sexually mature. In aquarium conditions the fish often stop growing at 12-13cm, Grown in optimum conditions they can reach 18cm.
Family:
Loricariidae
Temperament:
Peaceful.
pH:
tolerating 5.0- 6.5
Care Level:
Relatively easy..
Life span:
10 years
Sexing:
Males develop bristles on their nose and around the mouth. Females either have no bristles, or they are not as well developed as those of the male.
The dorsal fin of this species is supported by 7-8 soft rays
Photos are of Australian Juveniles..They lose the white edging on tail and Dorsal fin...sometimes they keep a small tail tip of white.