L144..........Ancistrus sp.(4)
The Black eyed Yellow Bristlenose.....
Image is of a male and female L144..
All Images are provided by 816johnv,amber and simolora.....
L144 Eggs..
L144 Young Fry...
Hatched L144 Fry..
[url=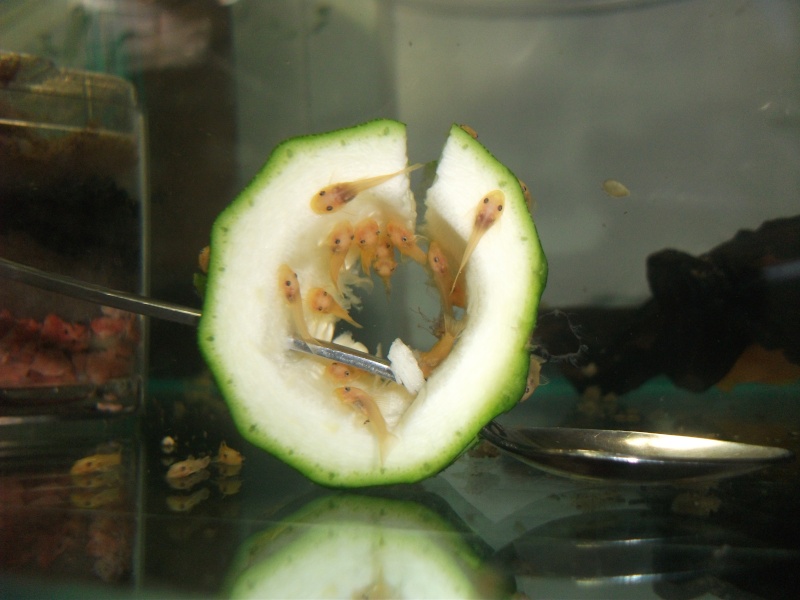 ][url=https://servimg.com/image_preview.php?
Fish Statistics
Minimum Tank Size: 100 litre's
Diet:Feed vegetables, algae wafers, and once a week frozen or live foods, Courgette, Cucumber,e.t.c.........
Origin: Paraguay
Temp (C): 21.0-23.0°C
Max Size: 4.3 "
Family:Loricariidae
Temperament: Peacefull......
pH: 6.2 - 7.2
Care Level: Easy.......
Here is an interesting discussion started by our member Amber....based on L144's......
There is and probably will continue to be some question regarding weather the L-144 is a separate species of BN or just another color of the common BN. I have been researching this for some time and this is what I have learned to date:
A yellow colored dark eyed male Ancistrus, species unknown, was wild caught in Paraguay. This fish was bred to normal brown females that were collected at the same time in the same area. The resulting daughters were bred back to this male to produce and fix this dark eyed yellow trait. These fish were imported to Europe and it is questionable if they were ever exported elsewhere. These fish are now quite rare, and some say gone. These fish were considered a separate species from the common aquarium strain BN.
At some point a dark eyed yellow mutation appeared in the common BN. These dark eyed yellow commons were very similar in appearance to the original L-144 and both became known by that L number. It is these fancy colored common BN that comprise nearly all of the L-144 available today no matter where you live.
I have heard the original species L-144 was a grayish yellow as opposed to the brighter orange yellow of the dark eyed yellow common BN.
In my opinion if you have an L-144 and you live any where other than Europe or even if you are in Europe and your fish is a bright orange yellow it's probably 95% or better that what you have is a fancy colored common BN just as and albino or a calico would be.
That said I'm not prepared to say that the original species L-144 is gone. I have seen an odd post or two and always from Europe (Germany/Netherlands), who seem to describe their L-144 differently than a common BN. The differences being a tolerance for colder water, more extensive bristles and a broad triangular body shape when mature similar to A. ranunculus.
I also saw a very interesting post I belive on P.C. where an individual bought a wild caught male Ancistrus sold as a "wild red BN" The importer had no information about the fish other than it being wild caught. This fish was dark eyed yellow in color but not the bright orange yellow of the commonly available L-144. I would call it more the grayish yellow that the original L-144 was described as having. There were photos so if you search "wild red BN" on that forum you could probably see it for yourself. I'm not saying this is the same species as the original L-144, or even the same color as I've never seen a real original L-144, but it is interesting